Discussion Starter
·
#1
·
On Thursday, I received two holsters and a belt that I had ordered from K & D Holsters. I ordered the snap on/off Laredo Defender for my Ruger SP101, a pocket holster w/exotic trim for my S & W 642, and a black belt.
I already have one of his "Laredo Defenders" and knew I would like this one as well. I ordered it in black with my initials on it - turned out great.
It is so comfortable and it still surprises me how close it fits to your body. I love the snap on/off feature - just so easy and keeps from scuffing up your belt as much.
I highly recommend this holster for any gun you carry. Here is a picture of the last one Kevin did for me. This one was done with Ostrich trim for my Sig P239 SAS.
The "Pocket Defender" I requested some exotic trim in grey, to match my black and grey grips on my 642. What he came back with was awesome!! Elephant trim - looks great. My pictures don't do it justice!
I normally wear slacks or Dockers to work so I was wondering how well the pocket holster was going to work. With Dockers, the pocket holster works great!! You can't even tell it there, but with normal thin slacks it looks like my pocket is stuffed with something. You can't tell what its stuffed with - It definitely covers up that its a gun and thats what its made for. It looks like you have a PDA or Blackberry in your pocket (or I'm real happy to see you)
I was really pleased with the Pocket Defender.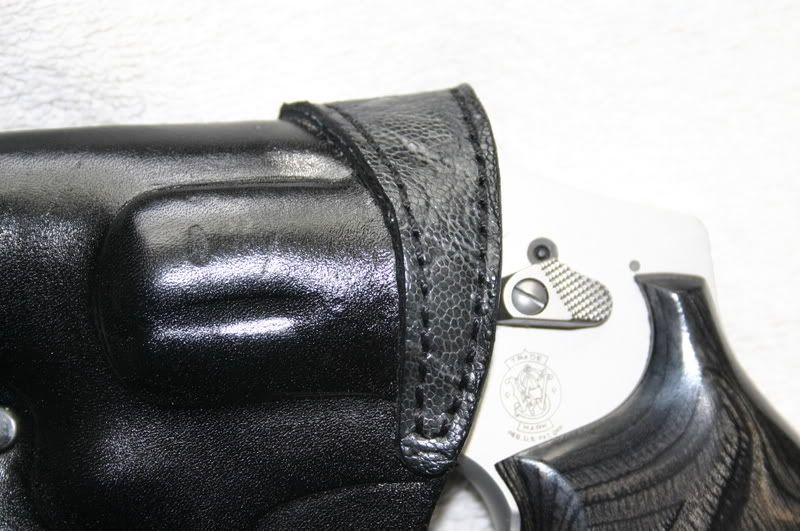 I have two Aker Gunbelts, a tan one and a black one, and have been satisfied with them. I have ordered almost everything Kevin makes but a belt, so I thought I would give it a try. Thinking it would be like my Akers - wasn't too excited for it to come in. Man, his belts blow the Aker gunbelts away!! I was shocked how much better it is - it is very stiff yet comfortable. I will order a couple more of these in different colors!
Do yourself a favor and give one of these belts a try!
Once again Kevin, you have done a great job - Thank you!!
:congrats: :congrats: :congrats:
Kevin's website
www.kdholsters.com