Discussion Starter
·
#1
·
It is well known that bill Ruger admired the Browning 1885 High Wall and/or the Model 78 so much that he designed "his baby"……..the Ruger #1, around the Browning design.
I thought you might be interested in seeing the #1 and the Model 78 displayed side by side.
As you might have guessed, I am a fan of the design too.
The Ruger and Browning model 78 side by side. The Ruger is chambered in .270 Weatherby Magnum, and the Browning in .22-250.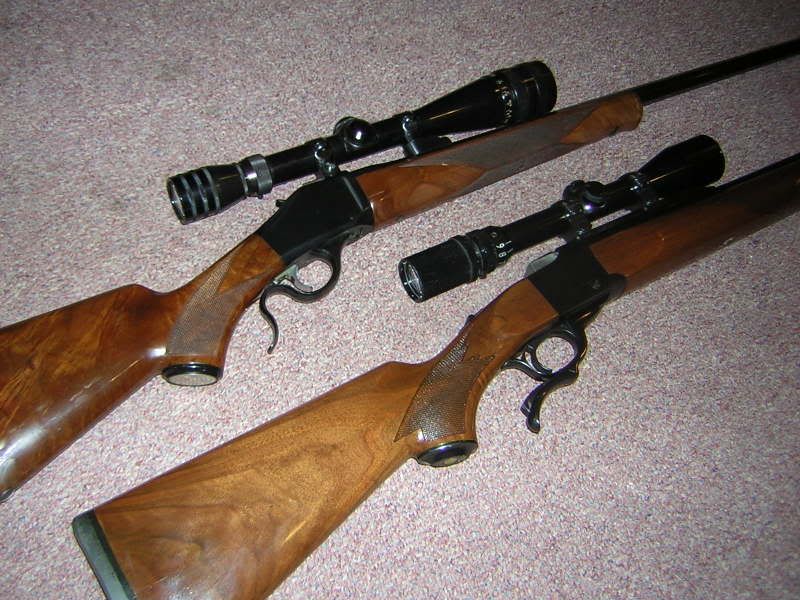 The similarities are obvious as well as the differences. The shape of the lever is one obvious difference, with ease of use going to the Ruger. The Browning also has an external hammer and the Ruger is internal.
The loading ramps are quite similar:
Both riles have phenomenal balance and feel, and as soon as you pick one up, you know it was meant to shoot.
The Ruger does have a couple of minor flaws though. The grove for attaching the rings for the scope require the scope to be set as far to the rear as possible in order to get the maximum eye relief, but it still isn't enough. Also, the hanger for the forearm always has to be tuned either by shoving a shim between the barrel and forearm or by getting a device called a Hick's actuatizer and tuning between pressure and loads that it likes.
The scope on the Ruger is a substitute while the designated model goes back to the factory. Somebody warned me not to buy a Leatherwood, but I didn't listen. The scope on the Browning is a Redfield 6-18x40, which I am very pleased with.
The Browning is currently the most accurate rifle I own, with the Ruger not even in the running at the moment. It does have the potential to rival the Browning with some more tuning and load development.