The reason I'm starting yet another thread here about hammer bushings is that I wanted to give
an unbiased review concerning these.
I have all three types of bushings (Sam's, BAM's, and Tandemkross'), a Ruger Mark III 22/45 6 7/8 Hunter, and here are my thoughts regarding each one of these: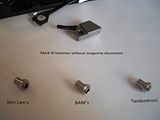 Most of the following pictures are just thumbnails and if you click on them, you will

see a larger picture.
FIRST THINGS FIRST:
This is one of the easiest and one of the best modifications that you can do with your Ruger Mark III (including 22/45 and LITE) series pistol.
In other words, what I'm writing this post about is just concerning
Mark III types of pistols
(and specifically anything with a Mark III hammer):
MKIII

MKIII 22-45

MKIII 22-45 Competition

MKIII 22-45 Government Target

MKIII 22-45 Target

MKIII Competition

MKIII Government Target

MKIII Target

MKIII LITE

MKIII Hunter

If you don't know what you have, this may help:
GunTalk-Online.com :: View topic - Ruger 22 Auto model comparison chart
If you have a
Mark II
and want to replace your hammer bushing for a better trigger feel, go check out
Clark Custom Guns, Inc. Home Page
or
http://www.volquartsen.com/
because they make bushings for the Mark II hammers.
Again, everything from here on out is taking strictly about Mark III pistols.
Special thanks to Bullseye for being the originator of the Mark III design for the bushing.
Why replace the stock hammer bushing/magazine disconnect:
When you replace the stock hammer bushing, you will completely remove the stupid magazine disconnect as well as shown in this picture from Bullseye's website guntalk-online.com: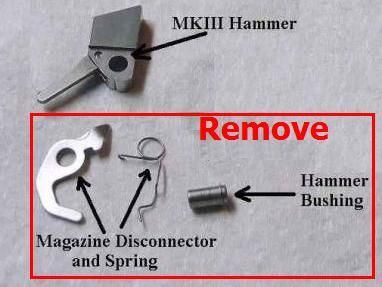 If you don't know what a magazine disconnect is:
Safety (firearms) - Wikipedia, the free encyclopedia
WHAT THIS MODIFICATION DOES:
Magazines Fly Right Out! No more prying out bound up magazines after hitting the release button.

Simplify Disassembly and Reassembly - No Magazine insertion/removal steps required

Clean Up Trigger Slop. Note: The best thing available to really reduce your trigger pull weight is installing a Volqartsen target sear and an adjustable target trigger.

Fewer Parts Simplifies Detail Strip

WHERE DO I GET ONE AND WHICH ONE?
NOTE: These were the 3 manufacturers that actually replied to my review request. These are in order as they were available to the public.
___________________________________________________________________________________________________________________________________________
Sam Lam's Bushing:
$12.00 shipped. Made of O1 tool steel.
Sam is a great guy and lives in Toronto Canada. Basically you just send him an email at
[email protected]
and he quickly responds with his mailing address. You then send him either cash or check through the mail and about 2+ weeks later, you will receive your bushing (protected by card-stalk and tape) in a regular mail envelope. When I received mine, I was actually surprised that the mail processing machine rollers didn't press or damage the bushing right out of the envelope. I guess Sam has sent enough to the USA and understands exactly what it needs to get by. He's been doing this for many years now. Sam is a standup guy and stands behind every bushing he sells. I've even heard of a customer sending him cash, and it unfortunately got lost in the mail, and yet Sam still sent him the bushing. What does Sam do that is absolutely awesome? Ruger tolerances vary quite a bit, and most people don't know, but Sam will also make you a CUSTOM bushing to precisely fit YOUR hammer and pin if you send them to him.
Same charge and turnaround time.
UPDATE
: Sam will now accept PayPal to the email address above. This is great since it cuts the shipping time in almost half.
________________________________________________________________________________________________________________________________________
BAM Bushing
$15.00 shipped. Made of 304 Stainless Steel.
"BAM" are the initials of a great guy in Michigan. The perk about him is that he is an
active member and sponsor here at RFC
and is very helpful. Another nice thing is that he has an actual website (
BAM's Hammer Bushing
) where you can quickly order from and even go through a
step by step picture guide
on how to install a bushing. I personally believe that this is the most helpful online guide to installing these bushings. BAM is easy to contact either here or through email if you ever need any help installing his bushing. His online website is a PayPal web store but feel free to email him at
[email protected]
if you prefer another form of payment. Shipping is free from Michigan to US addresses and he will try to get parts out within a business day of purchase. Extremely fast shipping, provides tracking number, and has professional packaging (bubble wrap in a mailer envelope).
BAM's bushing is stated to be slightly larger than the factory part and thus the resulting
tight fit
will reduce or eliminate the trigger slop that is caused by the loose factory bushing. This sometimes requires buyers to literally freeze their bushing overnight in the freezer so that the metal will shrink just enough to fit snugly within the hammer. Some users swear by this tighter fit although I can't tell a single functional difference. (The hammer doesn't pivot on the bushing. Its the hammer+bushing that pivots on the hammer pivot pin.)
_________________________________________________________________________________________________________________________________________
TANDEMKROSS' Bushing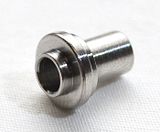 9.99 + shipping (WITH CODE BELOW) = $11.99. CNC Made of 304 Stainless Steel.
COMPANY
out of New Hampshire. Also
a forum member and sponsor here at Ruger Forum and RFC
. Their bushing is designed to be a "drop-in" fit (no freezing or sanding required, regardless on your hammer's tolerances). Their bushing literally just dropped right in my hammer whereas the previous two required me to barely press them in with my thumb. Tandemkross offers an official, written
Lifetime Guarantee
on their product. I've heard of stories where a customer has run into problems with taking down their pistol, and the guys at TK set up a Skype session on their time off just to walk the customer through the steps. Who does that these days? How much better can it get from that? These guys make it really easy to be able to order their product as they have a website (
Quality Aftermarket Ruger, Kel-Tec Parts & Accessories - TANDEMKROSS
), sell their product on
Amazon
and
eBay
, and even have phone support/ordering. Yes, they can walk you through the installation on the phone if you need extra help as these Ruger pistols can seem a little complicated at first. It is cheaper to order directly off their website since both Amazon and eBay charge them fees obviously.
They also have a great COMBO deals
on their website where you can get other upgrades that you want at the same time but with a HUGE discount.
Bushing and Ultimate Clip Loader Combo
Bushing and LCI filler Combo
Bushing and Magazine bumper Combo
Interesting to note, here are the links to their Amazon and ebay product
feedbacks
that they have zero editing control over: AMAZON and
EBAY
CLICK HERE FOR RFC MEMBERS' OPINIONS ABOUT TANDEMKROSS.
They provide tracking numbers with every order, extremely fast USA shipping, and professional packaging (bubble mailer). Note that it comes with printed, colored instructions.
Occasionally, Tandemkross offers a discount code to lower the cost. They even did free shipping back in September and thus reduced their bushing cost to $9.95. For Father's Day this year they had a bushing blowout for 4.99! They were nice enough to provide us at RFC a permanent discount code exclusive to RimFire Central readers only for $1.99 off their hammer bushings: Coupon Code:
RFQUALITY
They also offer some awesome aftermarket magazine basepads as seen here:
http://www.tandemkross.com/2245-Extended-Magazine-Bumper-Magazine-Bumper-Base-Pad_p_26.html
https://www.tandemkross.com/2245-Plus1-Magazine-Bumpers_p_12.html
_________________________________________________________________________________________________________________________________________
MY UNBIASED REVIEW:

There ya have it. Might as well help our struggling economy a tiny bit and order an American-made product. I've been happy with the Sam Lam bushing in my gun for the past year, but if I had to do it all over again, it's great to know that we have other options available as I
DEFINITELY
would order from BAM or Tandemkross without hesitation. They all work the exact same and help improve our guns.
I thought about measuring each dimension and listing those here, but it would be pointless. My hammer is different than yours. Dimensions from the bushing manufacturers also can vary between their batches.
Just looking at them: My BAM and Tandemkross bushings are probably the ones with the best finish. They both seem to put forth a little more effort to rounding out and deburring the edges. I personally think BAM spends the most time sanding his and Tandemkross spends more time polishing their bushings before they ship them out. This is evident in the pictures below.
A better finished bushing can help reduce friction anywhere the bushing touches, and it could provide for a smoother trigger action.
That is why I personally recommend one from BAM or Tandemkross.
NOTE: This is just my opinion and my observations. What experience do I have with machining? Not a whole lot now as I don't have a lathe or mill currently, but I won state and then competed in the National machining competition in back in 2005.
The bushing/hammer can move freely between the safety and the frame. The idea behind the bushing's overall length is to keep the hammer lined up with the bolt and one end or the other could be rubbing on the safety or the frame. There is a little play built in because rubbing on both sides could cause jamming, but the length is enough to properly locate the hammer. The steps on the right side of the bushing ensure that the disconnector can move freely no matter where the hammer bushing falls in that window of play. This is also how one of these aftermarket bushings can increase consistency of your trigger pull. Note the green lines in the picture taken off of BAM's website here where the bushing can and does touch: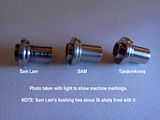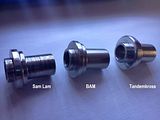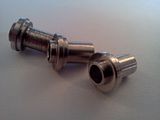 Regardless on how the bushings "look," the truth is,
all the three types of bushings worked in my pistol
. All fit just fine. All performed the functions that they all claim to perform. Again, no functional difference can be noticed between them.
RANDOMLY installing these bushings in my gun and shooting at the range, I CAN'T TELL A SINGLE DIFFERENCE. Being that I probably represent 99% of the casual shooters that read this, ANY BUSHING WILL WORK JUST GREAT FOR YOU.
Obviously a more extensive review after firing thousands of shots which each bushing would have been better, but I wanted to post this thread now and let new-comers know of the great options available.
Nothing wrong with good ol' capitalism at its finest.
We really are lucky to have 3 great options and 3 equally outstanding people/companies when it comes to customer satisfaction. I can't stress enough how friendly and helpful that all 3 of them are.
EVERY Mark III owner needs to do this simple modification!
-Checcles
HOW TO INSTALL THE BUSHINGS:
YouTube videos on how to replace your stock hammer bushing with one of the above mentioned aftermarket bushing:
Ruger 22/45 mag disconnect removal - YouTube
TANDEMKROSS - Mark III magazine disconnect bushing install - YouTube
–Tandemkross' tutorial​
Picture tutorials:
Ruger Mark III 22/45 Magazine Disconnect Removal - Imgur
– Taken off of BAM's website
2245 Maintenance Page
– General disassembly