I am trying to research a Ruger Mark I Target handed down to my father from his father about 10 yrs ago (just before he passed), and then from my father to me a few years ago.
We weren't really close with my grandfather, but believe he was the original purchaser of the pistol. Other than that we don't know much about it.
It was handed down in an interesting wooden box with the Ruger logo on it, but no one I've taken it to (LGS and some Ruger collectors) have ever seen one like it or ever heard of Ruger making such a thing. Also the grips on the gun look to be custom wooden target grips (and the box is custom fitted to it).
Based on its serial number: 25xxx, I believe it to be ~1951 Mark I Target 6 7/8" Tapered Barrel (T678), Red Eagle, although if it did originally come with Red Eagle grips they were/are not with the gun.
Here are some pictures:
- Outside, top of closed wooden box - note Red Ruger logo -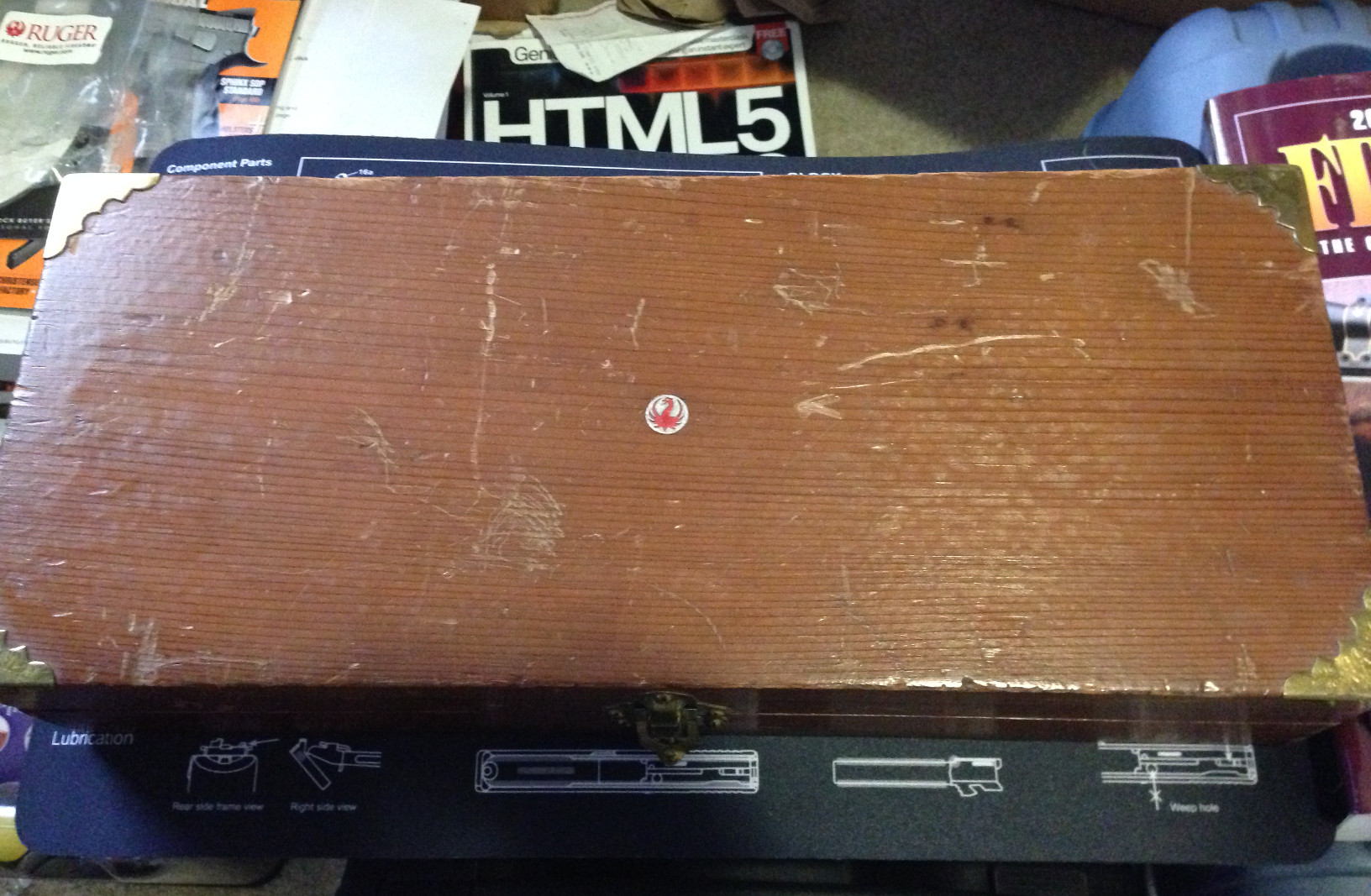 - Inside, opened - Mark I pistol, cleaning kit, and single magazine -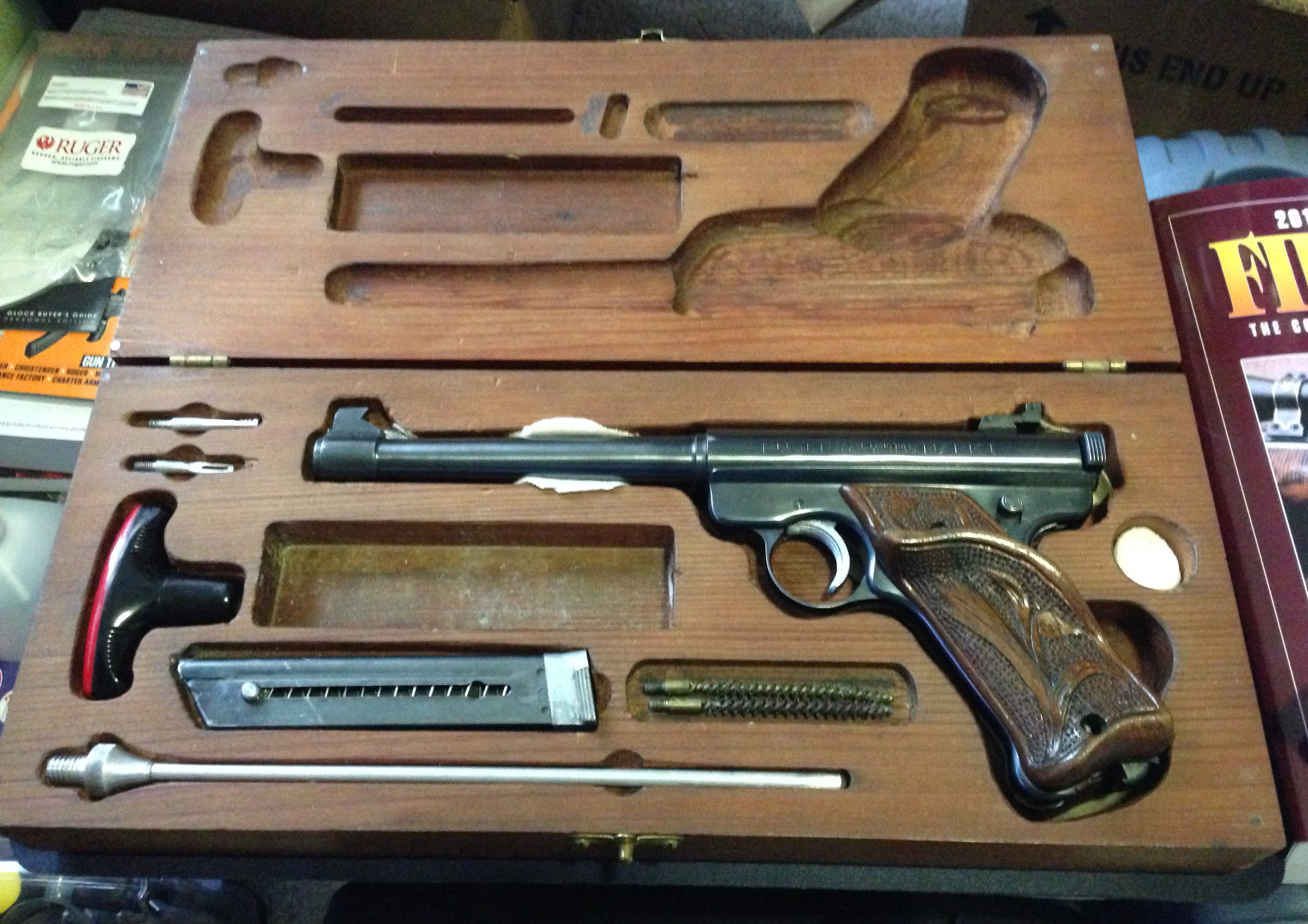 - Inside, opened - pistol / different angle -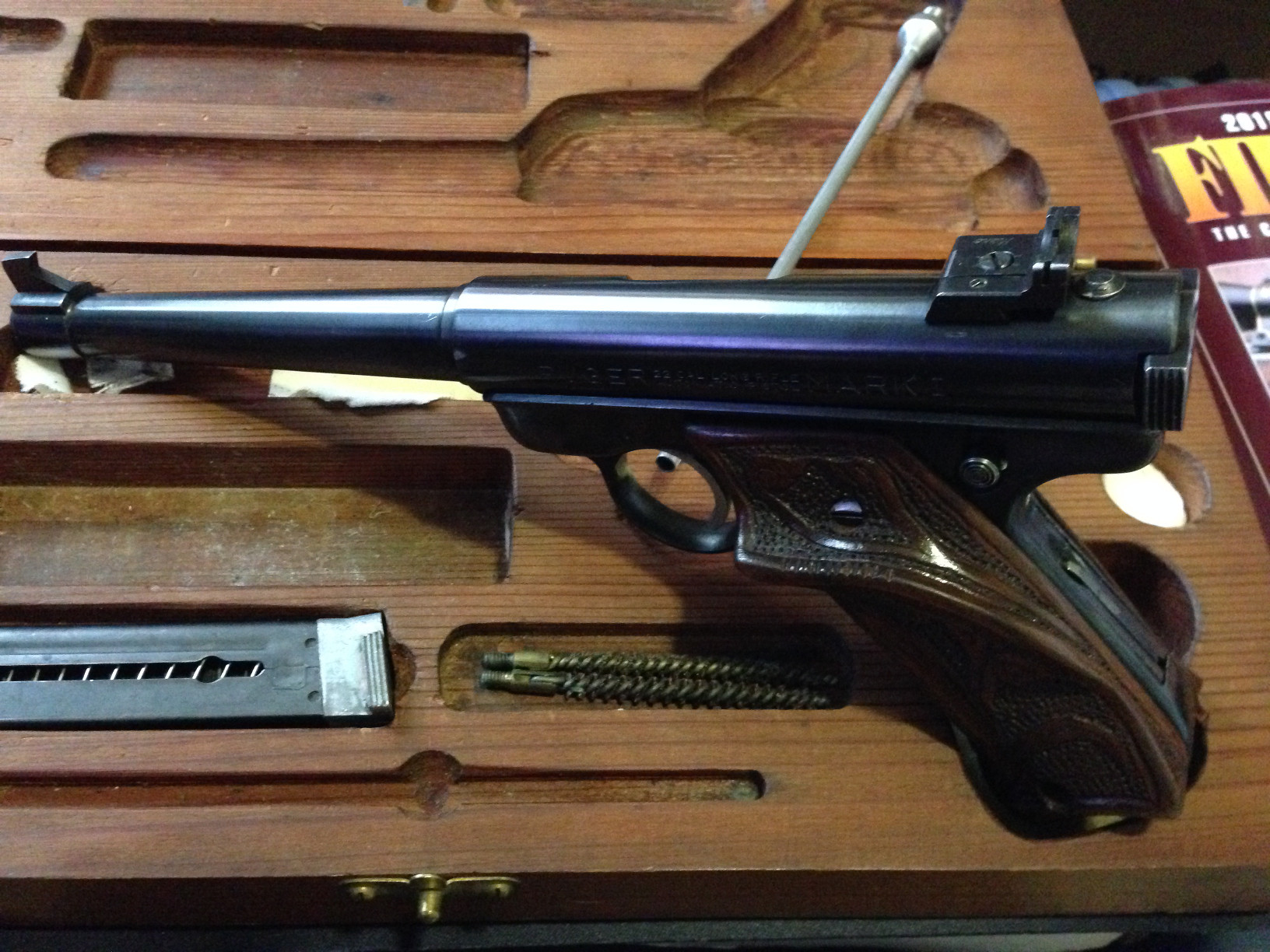 - Inside, opened - Mark I pistol flipped over (s/n blurred, but in range 25000-25300 -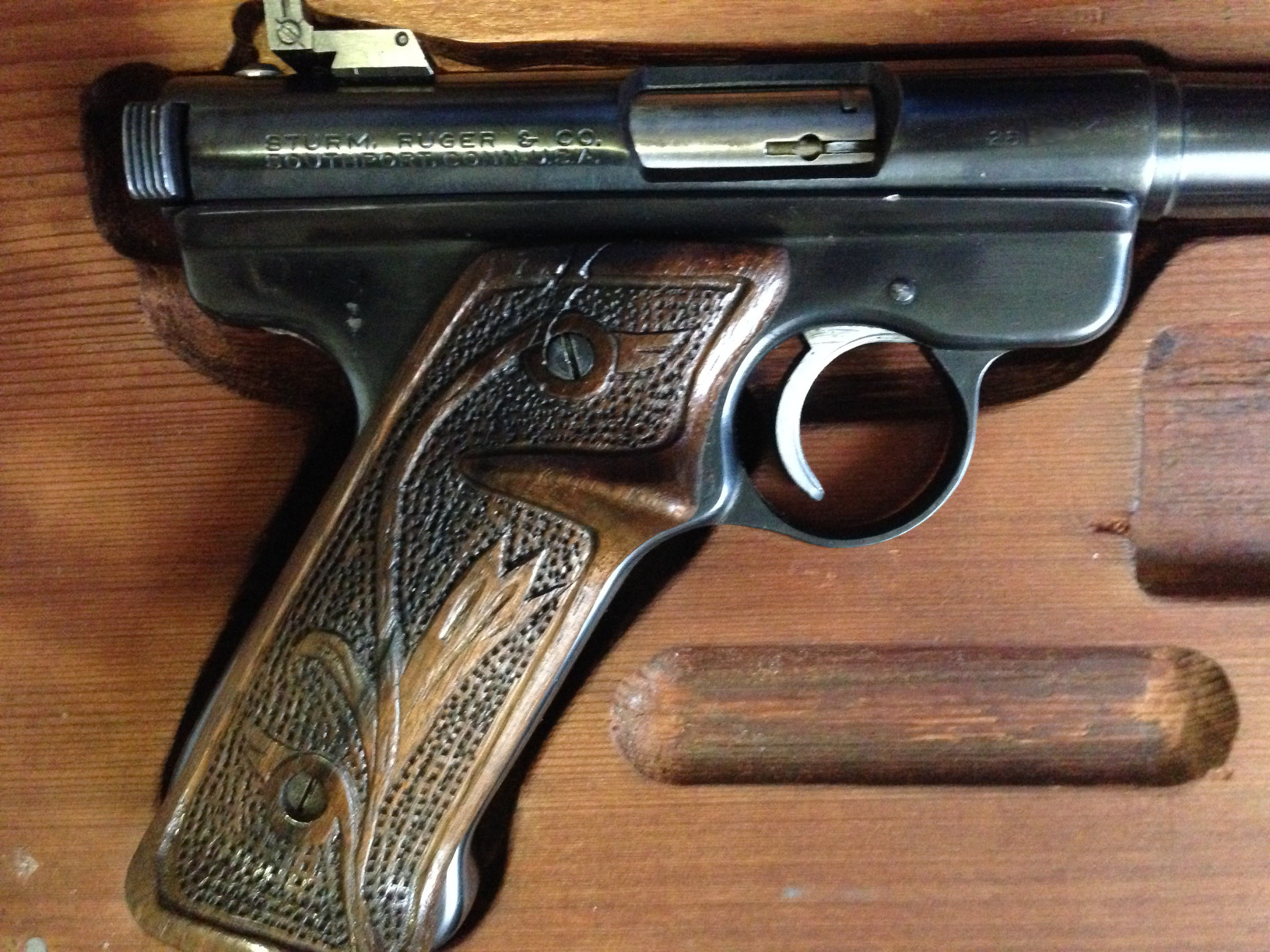 - Underneath the magazine has this interesting device (something for oiling the gun???) -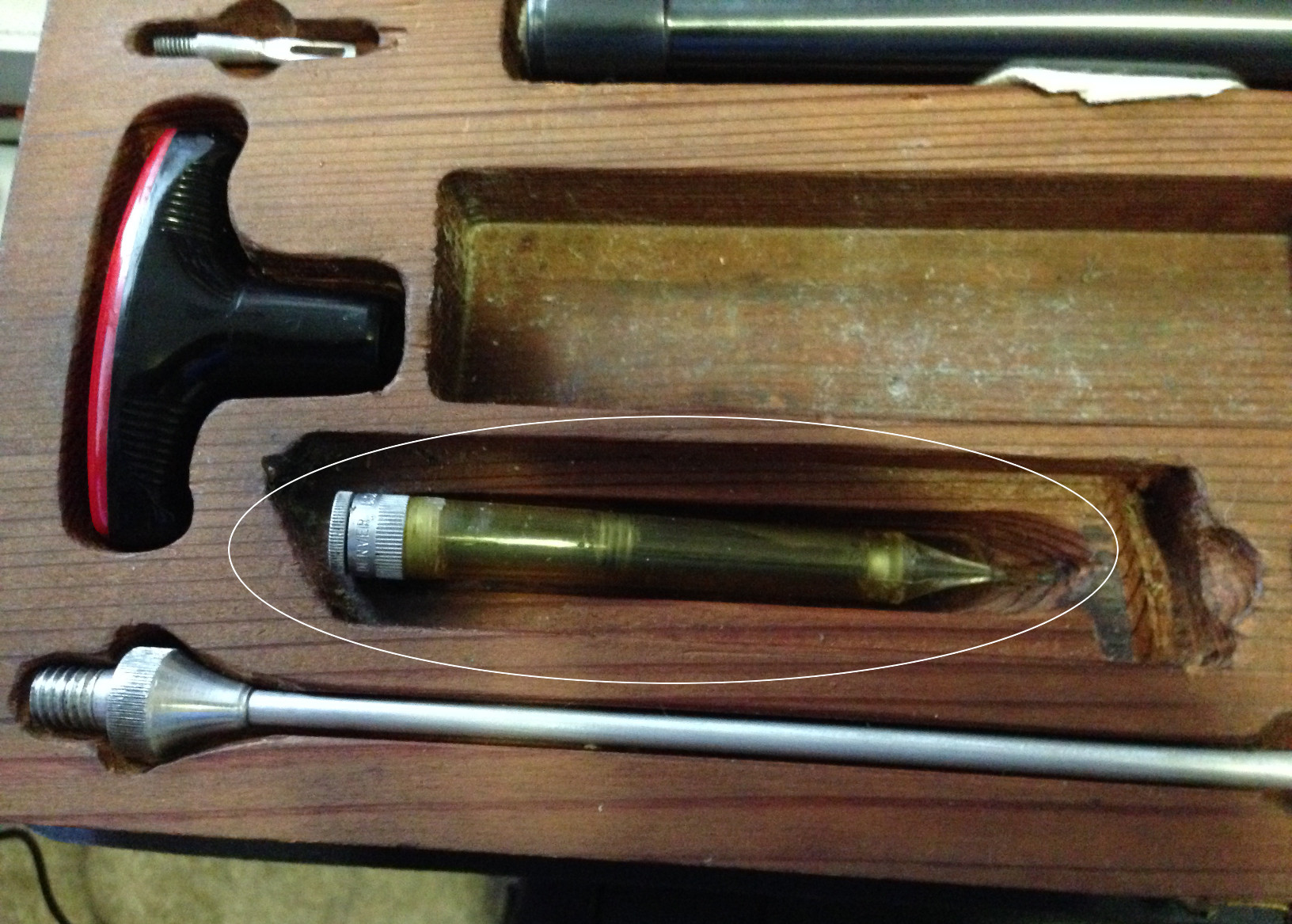 I have requested some information from Ruger on the original shipped configuration, but haven't received anything back yet on that, so I'm hoping some of you on here might have some additional insight.
As I mentioned above, my grandfather wasn't close to the rest of the family (including my father), but it was said he was a handy woodworker, so I'm wondering if he built the box himself (although I'm not sure where he got the red eagle metal Ruger logo from (maybe from the original red eagle grip?). Thought maybe he made the grips too.
I have shot the gun 8 or so times at the range and have put probably 250 rounds through it myself. Shoots like a dream (although it does get heavy after a while). I love the gun and look forward to handing it down to my son. After showing it to a collector at my local range he hinted that if I really enjoyed shooting it to pick up a used Mark II to shoot regularly and just shoot this one on special family occasions
Found a decent Mark III target that feels really similar that allows me to still have fun with a .22LR pistol, and so I'm practicing with it now, but still am a little nostalgic for the old guy.
So, any info/comments on the box, the grips, or the whole set-up in particular would be welcome.
Should I try finding a pair of old Mark I Red Eagle grips for it and replace the wooden ones with them?
Also, is that device under the magazine something to oil the gun?
Thanks guys,
--Coop