Discussion Starter
•
#1
•
I am interested in getting an M77 Hawkeye in .223. Has anyone had the throat changed on theirs so that that the chamber is like a 5.56 NATO?
I searched for some chamber dimensions: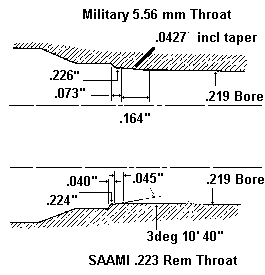 Does the throat/leade change reach out to the rifling?
Is this a complicated process? I am not going to try this myself, I am wondering if it takes a special gun smith to do this.
If this sounds like it might mess up the accuracy and it obviously mess with the warranty then I do not think I want to go down this road.