Discussion Starter
•
#1
•
Hi Folks,
As the title states, the safety on my Mini-14 is not working properly. When the bolt is closed I cannot get the safety switch to move from "on" to "off" or the other way around. With the bolt locked open I can move the safety switch freely.
I did partially disassemble the gun a couple of days ago. All I did was remove the trigger housing assembly as outlined in the instruction manual. I did not disassemble the gun any further. After reinstalling the trigger housing assembly the safety lever can only be moved if the bolt is locked open.
Any suggestions?
Here is what I am working with: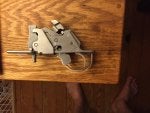 I've played around with this assembly (out of the the gun) and the hammer needs to be cocked rearward an additional 1/4" or so for the me to be able to move the safety lever. Did I somehow bend something when popping the trigger guard loose?
Thanks!