I figured I'd start a thread to track my progress on sighting in the harmonic dampener on the Mini-14 target, and perhaps some other folks will find it helpful. I came across the video of "Whacky Paul" on Youtube dialing in the Target for a friend years ago, and after reaching out to him for advice, I spoke with him for an hour on the phone. He's a great guy with a wealth of knowledge, and here he is in action dialing in the Target:
https://www.youtube.com/watch?v=z89nJ5zA4bI
I figured the least I can do is spread the knowledge he gave me to help other folks save some time, and expedite dialing in the your Target. So in a nutshell, here's what you want to do (targets he used attached):
Precursory- for the noob, like me
:
A) Make sure your scope is locked down tight per your manufacturer's specs. With my Leupold, you need to attach the rail attachment (3-small allen key bolts), which after test fitting with my one piece mount and scope, I used blue-loctite to secure the rail. I'm pointing to the most rearward one here: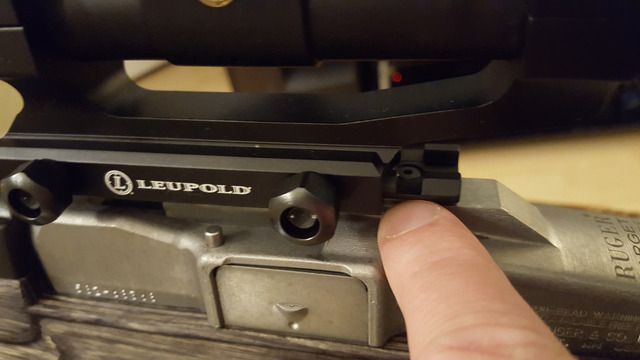 B) Make sure your scope is locked down tight to the rail (or however you attach your scope, via factory Ruger scope rings, etc). Be careful not to tighten the tube down too tightly; again refer to your scope's manual. For my scope, these two bolts are on locked down. Now that I know everything is good, I'm going to take them off, and put some blue loctite on the threads and tighten them back down solid: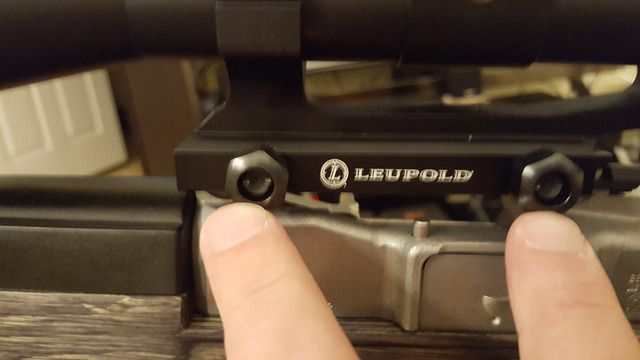 Now that everything is locked in place
:
1) At 50 yards (where the bullet is the most squirrely), sight it in roughly with the harmonic dampener in the fully out "flush" position, and tighten down all 4 hex screws firmly. This is flush or "zero turns."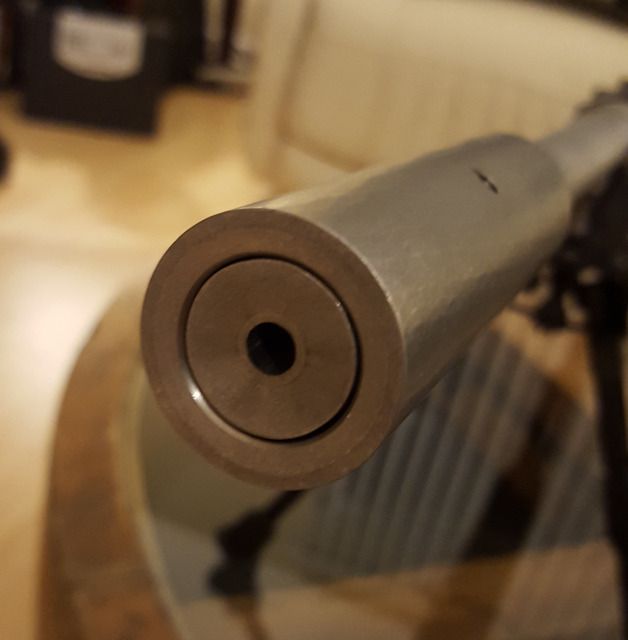 Now Paul told me to do 1/2 to 1/4 turns back (tightening the dampener back down firmly each time of course) from 0 to 3 full turns. Why 0-3? Because he's helped many folks dial in their Mini-14 Targets, and it is usually between 0 and 3 full turns.
I was with the gf at the range, and she hasn't shot in years, so I ran out of time fiddling with the dampener, and it took my 75 (1/4 MAO 'clicks') just to get her started before fiddling with the dampener. So, I only did 12 shots (3 per square) at 0 turns (flush), 1 full turn, 1.5 turns, and 2.0 turns. It was 85F with 64% humidity. Paul said when you're putting 2 or 3 in the same hole, you're getting the dampener dialed.
The best I managed was a couple at 1.0 turns, in the bottom left set of targets here, with a couple through the same hole, or very close: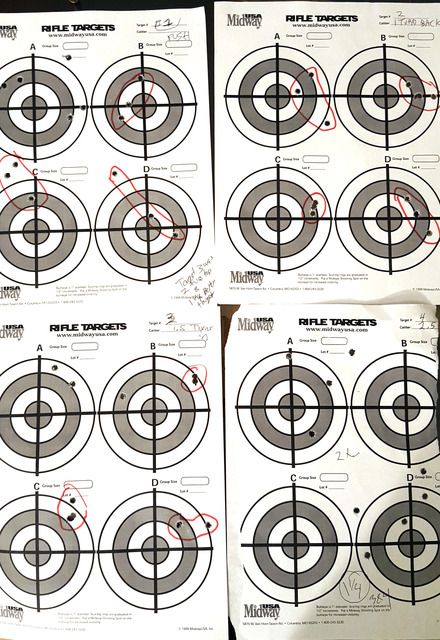 Then I was running out of time, so I just put 6 in some paper at 50 yards-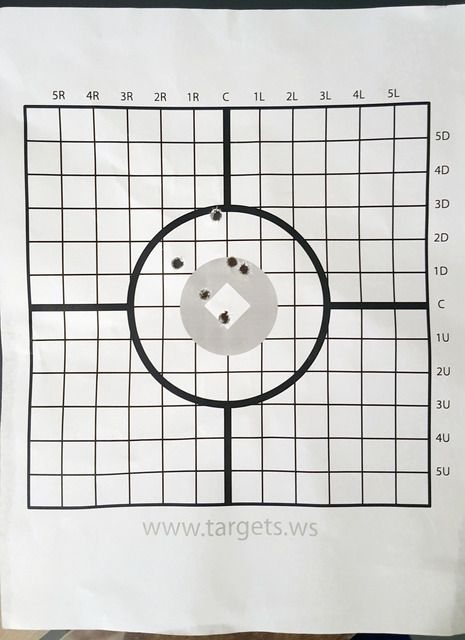 Finally I felt compelled to do some shot-gunning at 100 yards with a splatter targets for the last sets of rounds before the range closed. It's definitely not pretty (real ugly, lol), but I'm happy with today's progress, and I learned a few things, and I have a good plan for next time. Plus, I got another 200 rounds of action with her, so I'm sure I'll improve each time out.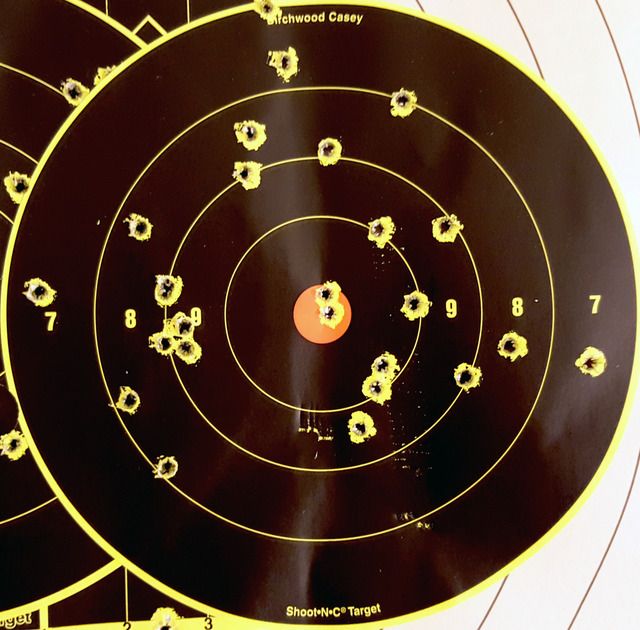 Also, wind was about 3-12mph varying direction over 3.5 hours at the range. Did I forget to mention that I had great time?! Cheers!!
EDIT: PDF of rifle target attached