Discussion Starter
·
#1
·
I've had my RPR in 6.5C put together for a few days now. It took a week to get the high mounts for my scope.
I shot a box of Hornady 140 gr and Winchester Match 140 gr and groups were consistently just under an inch. Not as good as I was hoping for, but I was shooting off the bipod because I didn't have the right configuration of bags with me to hold the rifle steady.
This was my best at that session.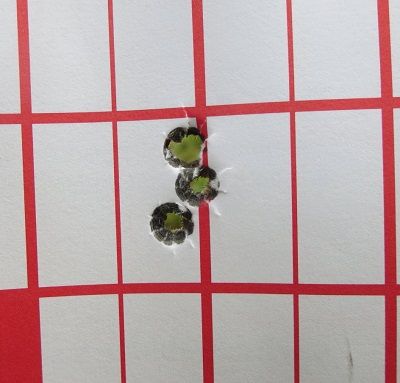 Yesterday I went out again with a smaller front rest and a larger rear rest. I had one box of the Winchester. The shop was out of Hornady, but I've got everything I need to start reloading for it as soon as I turn out some more 38 Super.
The rifle was steadier. Steady enough that I could feel the creep in the 2.6 lb trigger, which otherwise felt fine dry firing it. My groups shrank by 1/4", but that elusive three shot one-holer eluded me. Always the third shot that was the flyer, so it was probably me. But lets face it, the RPR isn't exactly a BR rifle. And I'm wondering if the bipod hanging off the fore end affected the barrel harmonics... but aren't the barrels supposed to be free floated?
So overall I'm very happy with it. The barrel gets warm, but the groups stay tight enough for gov't work. And I'm hoping with reloads I can squeeze another 1/4" out of my groups. Maybe start shooting cloverleaf's.
Some pics of my setup.