Discussion Starter
·
#1
·
This is the first rifle I ever purchased. It's fired countless thousands of rounds. Even after having a bolt chip a chunk off at the extractor groove it's still been trouble free (I've got a free factory replacement that I'm keeping as backup). I once got the reciever so hot that the Locktite broke loose on the scope mount. All of a sudden I was shooting like crap and had a scope floppin' about in front of me.
Even as I originally used it with the stock barrel and a cheap Burris scope I could easily outshoot my brother's Marlin heavy barrel bolt gun.
The add-ons are a Leupold Vari-X II with Stoney Point target knobs and Butler Creek flip-open scope covers, extended mag release, Volquartsen Barrel, muzzle stabilizer, and extractor, Power Custom action kit and extended auto bolt release, a stainless barrel band with built-in sling swivel mount, Buffer Technologies Shock Buff, and a Choate Dragunov style stock. I'm using the standard military issue web sling with an Unkle Mike's Q.D. Swivel, as both are the best I've used.
My only complaints are that the scope needed a ton of shims to get it on paper, and the Volquatsen barrel, while very accurate, lead fouls easily with some brands of ammo.
It's not nearly as pretty as a lot of the 10/22's I've seen here, but I like my firearms to be able to take a beating.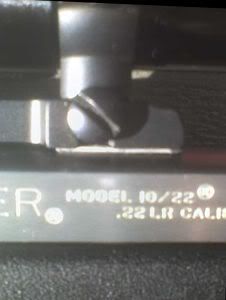 A whole lotta shims. Oddly, the factory iron sights needed little adjustment. The scope needed the same amount of shims with both the factory and Volquartsen barrels.