Discussion Starter
•
#1
•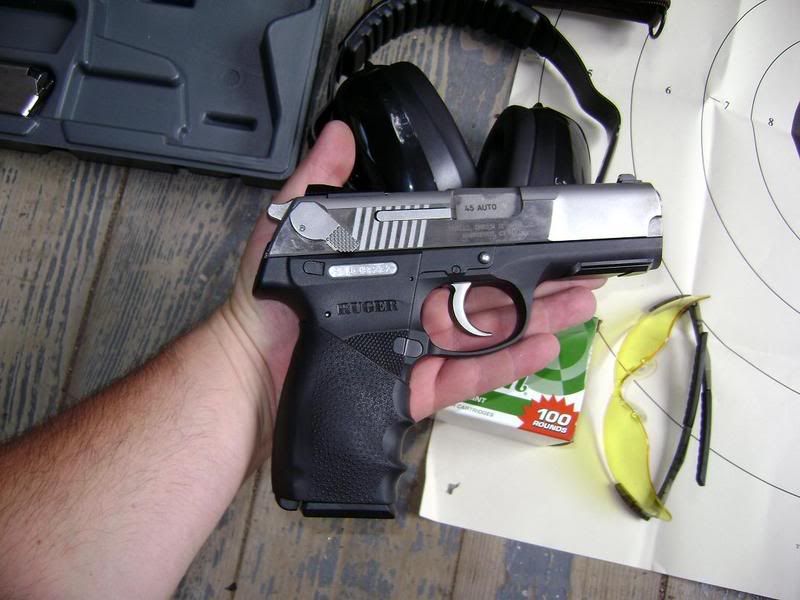 A few pics of my new p345. I took 100 fmj and 100 jhp loads to the range today to see what it could do. I saved 14 jhp or 2 clips worth for home defense, So i went thru 186 rounds. This was the first time i had shot a gun in 10 years. I just picked it up new yesterday.
I only had one failure to eject. That fte was on the 4th clip. I limp wristed (very limp) the whole 4th clip to see if it would fail. It shot all 7 rounds but the last one got hung up going out. I pulled the trigger 186 times today and the gun went bang 186 times. Not bad for a new gun out of the box.
The picture of the target was my first 7 shots fired at 5 yards. I shot a few clips at 7, 10, and 15 yards, But most of the time i was at 5 yards. I got the p345 for home defense. I dont see a reson i would ever need to shoot a gun at over 15 feet to save my life. From my bed to my doorway is only 12 feet , So i kept it in the 5 yard range most of the day.
This gun is more accurate than me from the grouping they were getting in articles i looked at. At 15 yards i put 2 clips thru it and missed the paper 2 times (out of 14 shots) with 3 shots in the black. Those 2 shots were my only paper miss of the day. Not bad since i have not pulled a trigger in 10 years. Maby its me but 98% of my shots were 3 to 5 inches lower than where i was pointing the gun.
I gotta say the houge grip(pn# 17000) saved my hand. It was soft on my hand and after coming home i don't feel like i shot a 45 at all. Last night i got a callus on my hand just gripping the gun without the rubber grips. The rough checker patter under the trigger guard was what did it. Houge grip was the best 10 bucks i will ever spend on my gun. I thought this gun would have more kick than it did. It was very manageable even with my small hands.
All in all i love this gun. For home defense with the p345 i would aim for center mass unless you practice alot and know you can hit what you point at. The range by my house has classes for beginner, intermediate, and advanced hanguns. I plan on taking the next beginner class they have.
I am glad i picked this gun. Many people told me you cant go wrong with a ruger and they were right. I am now a ruger fan myself. I hope to God i never need to defend myself with a gun, But i now feel i can a little better. I am having a blast shooting paper with my P345. I hope to make it to the range once a week to get better.