Discussion Starter
·
#1
·
Hi,
I just ordered my first blackpowder gun, an uberti 1858 (not a ruger, i know
). What would be the minimum gear that i need to start, if i have the gun, bullets and blackpowder.
I been interested in paper cartridges for a long time so i ordered a set to make them.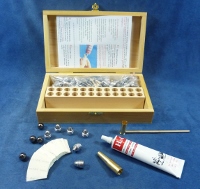 And also some repro cartride cases to get in to the old time feel.
I was thinking that i could also make some paper cartridge snakeshots from birdshot pellets?