Discussion Starter
·
#1
·
So, I posted about this when I got the gun, but everything has finally come to fruition.
I picked up an old (40 years) 66 no-dash recently as a woods gun more or less, to go along with my .357 lever gun that I take on camping trips and often rides along in the jeep.
Since it's going to be out in the field, I decided to go modern and rugged on the rig.
I went to L.A.G. Tactical here in Reno (great company to deal with) and had them put together a Kydex holster for the revolver. Holster is OWB right now but converts to IWB by simply changing the belt loops to J hooks on the opposite side.
I then crafted myself a kydex speed loader holder. I searched and searched online and couldn't find any really good examples of these made by others. I found one VERY similar to what mine ended up looking like, but it was on some german website. Easy enough to make, I already had the kydex, just ordered a tek-lok and there you have it.
I know the speed loader deal isnt professional quality or anything, but for my uses it'll do. Its adjustable, retains them very well, fits close enough to my body and also over the edge of the holster, and it doesnt look TOO bad in my opinion.
Anyway. enough blabbing. My newest project is now complete. Now...I gotta go do some more combat type shooting and reloads with my new setup!
Home made:
The rig as it will be worn on my belt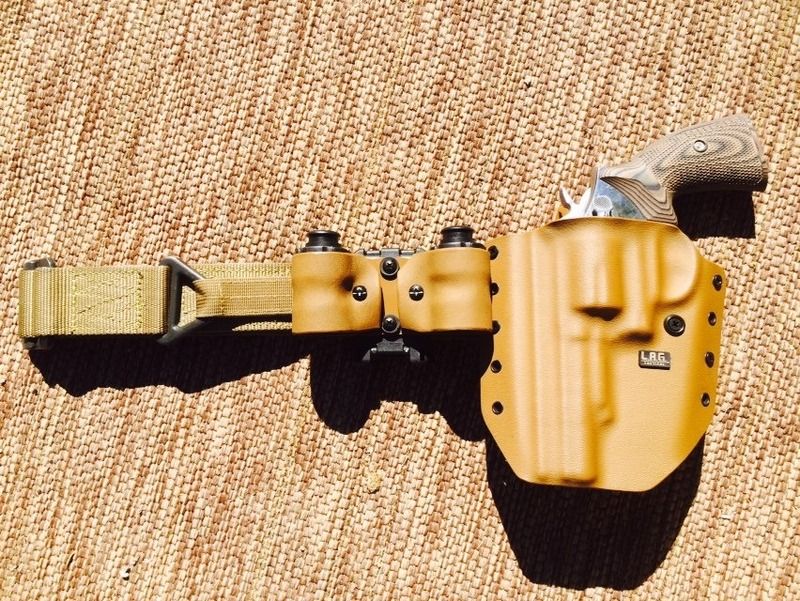 Rides comfortably, speed loaders don't stick out too far to be a bother. Easy to grab at too.
Obligatory pic of the gun in question: