Discussion Starter
·
#1
·
I initiated my new, Gemini Customs Ruger GP100 w/3 inch Barrel today at my local range. As you know, Marc Morganti, Pistolsmith extraordinaire, crafted one beautiful weapon for me and a there was requests for a report out…especially concerning the Weigand Combat Hybra Port porting operation on this revolver.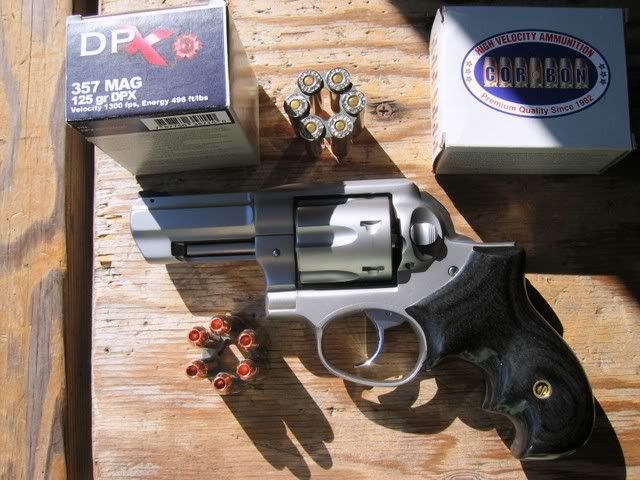 I chambered 125 gr. Corbon DPX. Why, because this is my carry load:
http://www.hipowersandhandguns.com/Corbon 357 Magnum 125 gr DPX Ammo.htm
It is also nice to know that Corbon uses flash retardant powder for those that worry about beau coup flash at night and in the wee hours.
I decided to set my target at 10 yards…30 feet. Why, because this is my self-defense weapon and this seemed to be an appropriate distance for a bobbed hammer, DAO revolver.
Results: First: I must say that I was overly concerned about how loud this was going to be…mostly because I read on this Forum and THR and even my local gunsmith gave warning. So, I wore ear muffs instead of my foam ear plugs. Well, the muffs must have worked great 'cuz this weapon sounded just like a normal .357 mag to me. Major surprise. Now…my M1 Garand and the countless M16 reports I've grown used to are loud…this was fairly normal if you ask me…but then, I rarely wear ear muffs…think I'll start doing this more often…they are great!
Secondly: The muzzle flip came to nothing. Marc told me it was going to be decreased by 70%. Hell…the barrel did not even rise two inches! For a moment I thought I had dud ammo. There was no twist to the left…no pushing back…all these things I heard about from people on the gun forums. Recoil was minimal. My S&W 642 kicks like a jack ass in comparison. Hell, I even hate to shoot that little Kel Tek P3AT cuz it snaps my wrist so bad. This was a cream puff. Amazing…simply amazing. This was fun…fun…fun to shoot. After my Corbons were shot up, I pulled out a cheap 50 round box of 158 grain Magtechs to plink with. I did have one round that failed to fire out of these…primer was hit squarely but it did not ignite the powder. Hmmm, dud round methinks.
I wore a white T-shirt…was expecting all this un-burnt gunpowder and particles to come flying out of the ports and smudge me up. Never happened.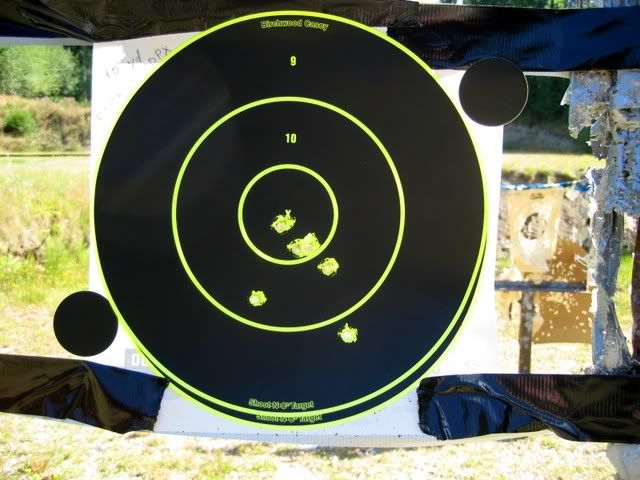 Ok…I decided that the only real concern was my shooting ability. I did not knock out the center ring when I fired. Guess I need some practice with .357 mag. I do, however, shoot it better than my .38 special 642…but I'm far better with my .45 ACP. But then…I did pass Old Fuff's 5-5-5 test. I can shoot five rounds in five seconds at five yards (make that 10 yards!) and keep my POI within 5 inches of my Center of Mass or POA. I did attempt to hit a target at 25 yards only to find I hit the black only three times. Well the bobbed 3 inch barrel GP100 isn't a target revolver…at least not in my hands anyway. Practice, practice, practice…that's what I need.
Well, folks…looks like I have a new carry revolver…and yes…it is ported and I love it! Now I'm waiting on my FIST #9 Basic Pancake OWB and even ordered an El Paso IWB...might give it a try even though I'm partial to OWB. Jack Weigand is a genius!