Discussion Starter
·
#1
·
I know y'all like to gather round the fire here to talk about Rugers, and so do I, but sometimes a guy just gets a hankering for something Ruger don't make.
Like a mouse gun.
Yup, so I decided I needed a mouse gun to carry in my pocket, as a BUG, or for just plain carry when a big 'ol Ruger just seems too big and heavy.
So while I was at Cabela's the other day, I was standing at the used handgun counter just kinda drooling, when my XYL (ex young lady) came up and said "gee, that one's kinda cute!"
The object of her attention, and mine, was a Walther PPK/S in .380, made in the US, by S&W, I think.
Now I know all the "slide bite" stories that have been around, but I also know some folks who swear they are the best mouse guns ever made. So I looked closer.
And this is what I saw:
The machine work on these things is the personification of perfection. Things fit together like no other handgun I've ever looked at close up, and the bluing looks like it is thick enough to be able to look right into. It fits in my hand like it was tailor-made for it and has a heft and a feel you don't get with a polymer frame. It drips quality.
So I parted with too many hard earned dollars and brought it home. And now I am glad I did!
I went to the range last Monday and put a few magazines down range. The first two shots were off the paper as I cringed waiting for the slide bite…..which never happened. After that, it was child's play to get all the rounds on the paper, and some actually in what resembled groups, in spite of the fact that my 65 year-old eyes can no longer focus on the front sight.
I like the sharp report of the little .380 round when it goes off, I like the stout but very manageable recoil you feel, and I like the fact that there is almost no muzzle flip. The recoil is almost all to the rear instead of up.
It is as accurate as your ability can make it. In the right hands, it would be dead nuts accurate.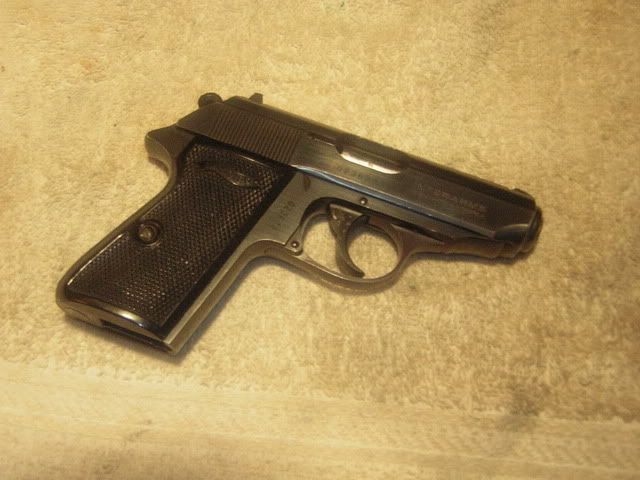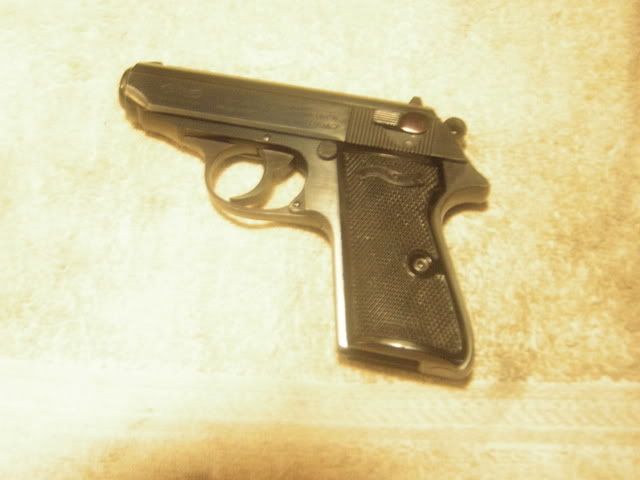 Note the clearance between the thumb web and the slide: