Discussion Starter
·
#1
·
I went to the range today (Monday, the 11th) and found about $4.00 worth of brass…..paid for my gas to the range! I know this doesn't have any Rugers in it, but that is only because I forgot to load the #1 in the car. I took ammo for it, but forgot the rifle! I adjusted the Hick's thingy on the forearm and wanted to see if it did any good.
I had a couple of different loads for .223 I wanted to try out and see if I wanted to load any more of them or not. The only difference between them was one was a copper-soft nose HP and the other was a copper-soft nose HP boat tail, both 55 grains.
I fired a few of the old 45 grain loads for comparison, and arrived at the conclusion that there was no appreciable difference between any of the loads, but both new ones were a little better than the old 45 grain loads. IMR 4198 was used in all loads. But that's not the reason for the post.
The platform for launching the .223 boolits downrange was the reliable Savage 112 FV heavy 26" barrel with the accu-trigger. I have always considered this to be my most accurate rifle, and I always knew I could take it out anytime and shoot less than MOA at will. This is also the rifle that I scored a prairie dog kill with at 685 yards.
So. It is my dubious duty to inform ya'll that the Savage is no longer my most accurate rifle; the torch has been passed to the "new to me" Browning High Wall in .22-250. Yup. The Browning produced better, and more consistent groups, than the Savage, and it did it with factory ammo.
So there ya have it folks, and now I'm looking to this baby to deliver a 1000-yard kill on them stinking prairie dogs! I also have to confess…..that's what I had in the back of my mind when I bought it.
Bunz (and son) getting ready to whack dogs with the Savage: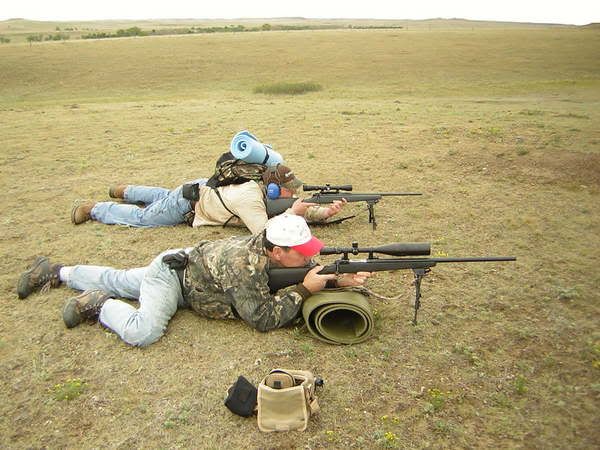 the Browning: