Discussion Starter
·
#1
·
At high noon I was on the range with my new beauty, the Ruger LC9. I launched a total of 70 various rounds down range with absolutely zero FTF's, FTE's, or stovepipes. Quite impressive for a brand-new out of the box compact 9mm pistol.
I used 7 different types of ammo just in case my LC9 proved to be finicky.
I was on the 7 yard pistol range using my favorite B-24 NRA targets. It was 75 degrees, sunny, and no wind. A beautiful day to shoot.
There were no issues with the LC9, it was all me. I'm happy I made it on the paper. The trigger pull is long, very long, which I am not used to. My pistol experience is with a Ruger P95, 1911, Sig Mosquito, and a Tokarev TTC. I read online that the trigger is like a revolver and needs a long, steady pull. With practice I'll become more consistent.
The sights are traditional white 3-dots which are easy to aim in the shade, but seem useless in bright light. The white on the sight dots seem to wash out in direct, overhead sunlight.
The grip, with only the flat plates installed, was enough for my hefty 8-1/2 sized hand. The LC9 comes with pinky plates for the magazine, but it felt odd during my dry firing exercises. After the 3rd reload I did notice some stinging and redness at my inner mid-palm towards the pinky finger. I was expecting a bit of pain with such a small pistol and started using a shooting glove. Big mistake. Since the trigger needs to fully reset after each shot, the extra thickness of the glove proved problematic. The LC9 is definitely not a range or plinking pistol. After 70 rounds I noticed small bruising from the grip checkering. I didn't realize that I had a death grip on my LC9.
The LC9 does have a louder bark compared to my Ruger P95, and a more pronounced muzzle flip. Shooting an LC9 proficiently is going to take extended practice sessions, something I was prepared to do when buying such a small pistol. The mechanics of the LC9 were flawless. She went bang every time and wanted more.
AMMO
(14 rounds):
Target #1: Aguila 115gr FMJ
Target #2: Federal 98gr FHT
Target #3: Federal 115gr JHP
Target #4: Ranger 147gr Bonded JHP
Target #5: Mixed Ammo
#1
#2
#3
#4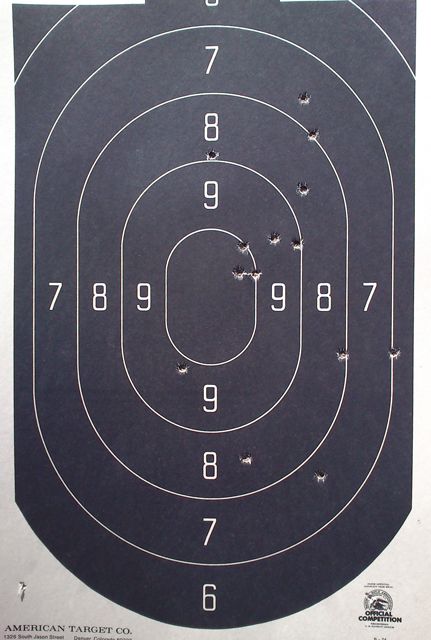 #5