Discussion Starter
·
#1
·
I picked up a sweet Marlin 1894 (current production batch) from a great CGNer recently. It had an almost broken in feel to it ie kinda smooth but a little "clunky" and gritty feel to some parts when cycling the action.
I figured I'd make it into a project gun and started slicking it up last weekend.
I did a full disassemble (other than remove mag tube and barrel from receiver) and began deburring all the parts.
- Polished the locking block
- Deburred finger lever, remove tooling marks, polished and reblued
- Deburred and reblued trigger guard plate
- Polished carrier
- Deburred, polished and reblued ejector arm
- Polished screw stems where carrier, hammer and finger lever pivots
- Deburred, polished trigger reset hump and ejector groove on bolt (used two popsicle sticks glued together, 600grit then 1000grit wet sandpaper) and reblued
- Polished finger lever plunger and cut 1 coil off the plunger spring
- Lighten spring tension on loading gate and reblued worked area.
- Upgraded stock plastic follower to a WildWest aluminum follower
- Upgraded stock trigger to a WildWest Trigger Happy trigger
- Ordered Skinner aperature rear and 0.450" front sight post (eyes too old for that Buckhorn rear sight)
Addressing the potential Marlin Jam.
When I looked at the carrier before working on it, the tell tale notch was starting to form. I carefully buffed out the notch so the area was even, being careful not to remove too much material.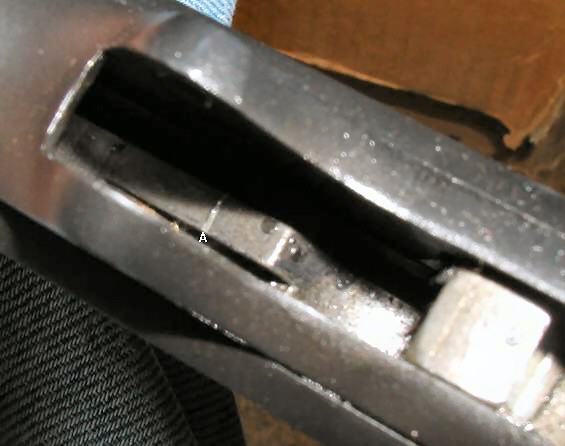 (Pic shamefully borrowed from Rusty Marlin)
I then slightly rounded the cam on the finger lever, polished it and reblued.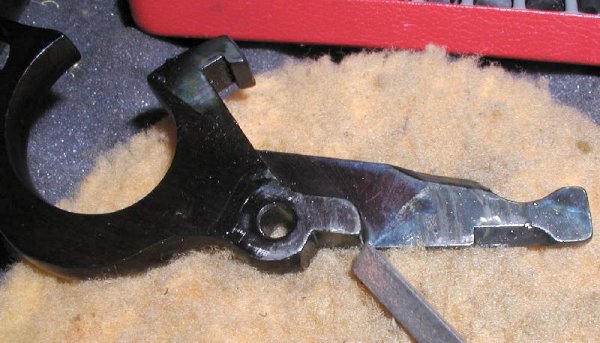 (Pic shamefully borrowed from Rusty Marlin)
Fixing the slight feeding issue.
When I got the rifle, it cycled pretty reliably but the odd occasion a dummy round would catch on the lip of the chamber. Doing some Googling brought me to Rusty Marlin's website. Turns out the timing of the carrier needed tweaking.
With the current production rifles, you get the new, somewhat improved, carrier but according to Rusty Marlin, it still requires tweaking.
One tip I saw on the Marlin forum showed using a vise and some strategic placement of some pivot points, you can bend the carrier more easily than Rusty's hammering technique.
Rusty did warn about protecting the spring loaded detent in the carrier so I tightly wrapped that end of the carrier with a wet paper towel while heating the loading end of the carrier with a torch. Rusty also recommended bending it upwards 0.05" but I only bent mine 0.02". I was a bit nervous because I wasn't using the best torch and cooling method for fine job. My cooling gel and micro torch was at my bro-in-law's place and was too lazy to go over to get it. I might look into bending it a hair more when I change out the hammer spring.
Reassembly
Lightly oiled the pivot points and moving parts and reassembled the rifle. WOW! She feels like a totally different rifle than when I got her. She's slick as snot now!
Original trigger pull was 6lbs. With the WildWest Trigger Happy upgrade, it is now at a smooth and clean 3.5lbs. There's a very light bit of take-up but perfectly acceptable. No more sloppy Marlin trigger. I don't think the Wolff Reduced Power hammer spring will make a huge improvement but I'll order one anyway and give it a try since it's only $8.
The only thing left to do is knock the sharp edge off the finger lever loop and reblue it. If I do quick cycling, that sharp edge starts digging into the back of your fingers in a hurry. I thought about doing the leather or cord wrap but I'm not a fan of the look and think it'll attract rust if it gets wet in the rain etc. I ordered some G96 Blue Creme to try out that should be coming in today so I might do this tonight if I have time.
After adjusting the carrier, the feeding has improved considerably. I cycled the action with 10dummy rounds, a half dozen times, with no hangups using a nice quick/deliberate working of the action. Looks like she'll feed pretty reliably and I don't see a need to adjust the carrier's timing any further.
She's ready for cowboy action... if only I did CASS.