Discussion Starter
·
#1
·
Picked it up yesterday from my FFL. Gave it a quick check, everything looked good. But when I was showing it to my GF when I got home, the trigger would bind up when dry firing it. Was happening about every 6 or 7 pulls.
I took it apart for cleaning. Took out the hammer, worked the trigger, problem still there. Pulled down the trigger group, nothing seemed out of sort. Cleaned and lubed everything, reassembled. Problem still there. At this point I was really bummed. I had ordered a Wolff spring kit, had planned to polish everything up, install lighter springs. But I didn't want to start with a possibly defective gun.
Looked like I was going to have to send it in. But as I was thinking about it, kept dry firing, noticed the problem was happening less and less to the point where it was down to every 30 to 40 pulls. Decided it must have a burr or roughness somewhere. What the hey, jumped in with both feet.
Pic of what the patient looked like when I was done gutting it: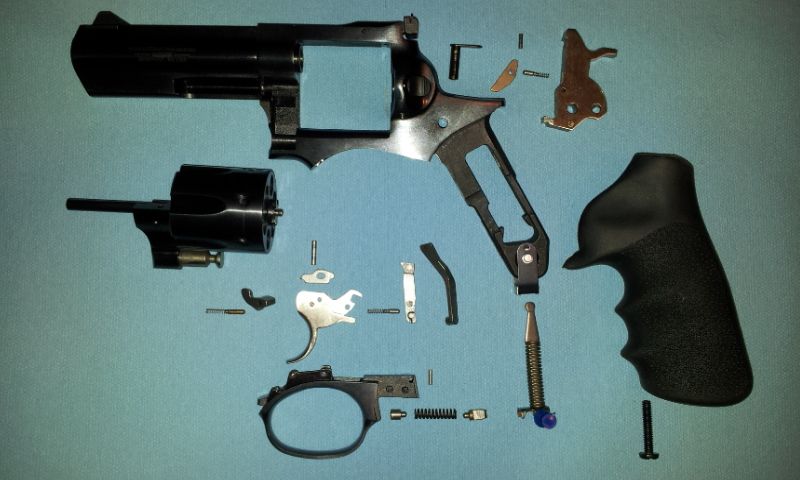 When removing the components from the trigger return spring bore, I found what I hoped was the issue: where the drill bit broke thru there was an angled exit point, and it had nasty burrs. The trigger link plunger was sticking there. It wouldn't slide out, I had to push it out. I deburred the exit hole with the tip of a sharp knife, then lightly chamferred with a needle file. The plunger would then slide easily back and forth in the bore, even without lube.
I'm thinking the burrs were sometimes preventing full trigger reset, then when I pulled the trigger again, the timing was off, something ended up binding. I'm a semi auto guy, not much experience with revolvers, but I was hoping that would fix the problem.
I then stoned every contact surface, then polished with 1000 fine sandpaper. And I mean every contact surface, even the teeny surfaces where the trigger plunger works against the cylinder latch. Of note was the roughness in the hammer socket where the tip of the hammer strut works. Wrapped some 400 sandpaper around handle of a needle file, worked it smooth, then followed with 1000.
Cleaned everything up, lubed, reassembled with factory springs. Worked the trigger, smooth, slightly lighter. Cocked hammer, tried to push it off, no problem. So at least I didn't screw anything up. But most importantly, after a couple hundred trigger pulls, no evidence of original problem. Woot!
Replaced springs, went with the 8# trigger spring, 10# hammer spring. Range toy, so if it lights off rounds reliably, might even try the 9# hammer spring. If not, go up to the 12#. The trigger reset is excellent. I did a trigger job on my 9mm Sigma including lighter spring on the sear, worked great. But no way would I have gone lighter without polishing out the nasty roughness in the sear slot. With mass production, I can see why engineers would spec such heavy springs there. Needed for reliable sear reset. Same for the trigger return spring on the GP. No way would I go lighter without a cleanup of the bore. JMO.
With the lighter springs, much nicer! My GF is petite, had a hard time working the trigger DA before I worked it, even when it didn't bind. After, she had no problem, really liked the way it turned out. Immediately asked when were we going to take it out to the range.
I'll update after sending some rounds downrange. Pic of the patient, ready to go: