Discussion Starter
•
#1
•
Since I do not have the time to load my own anymore, I'm on the lookout for the least expensive 9mm 115gr practice ammo. I found Tul Maxxtech 115gr 9mm ammo online. 1K round case for 18¢ per round. I decided to give it a try. It doesn't look like normal Russian manufacture steel case ammo. I ordered a case. I put a round to the magnet test. The casing is magnetic, most likely nickel plated steel. The projectile is not magnetic. It doesn't look like copper jacket. I think its brass jacketed.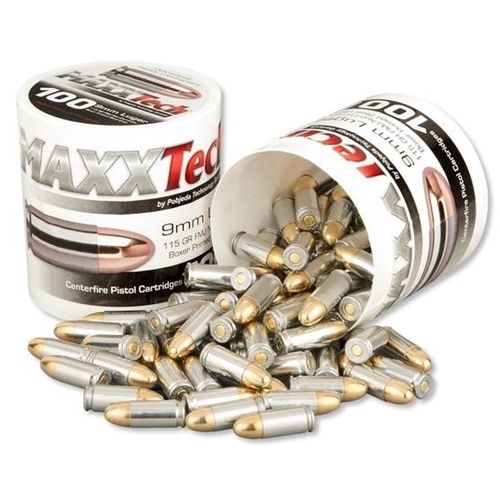 Product description:
Brought to you by POBJEDA Technology – a recognized name in Eastern Europe, with a long tradition in manufacturing ammunition, was built on 60 years of experience in research and development – leading to the best quality manufacturing and large volume production. MAXXTech ammunition is manufactured in Bosnia and Herzegovina and held to the some of the highest tolerances in the business.
I finally have a free morning. I decided to to go the range and break in my new XD Range Officer 1911 9mm.
(gratuitous gun porn)
I brought a 50 rd box of Federal Champion 115gr FMJ (brass case / copper jacket). I brought a 50 rd box of CCI Blazer Aluminum Case 115gr FMJ (aluminum case / copper jacket). Lastly, I brought a 100 rd plastic can of the Tul Maxxtech. Federal champion cycled the pistol without issue. Federal recoil impulse felt weak, but consistent. CCI Blazer Aluminum Case barely cycled the pistol, but it did cycle. The weak ammo had a definite shift in point of aim / point of impact. I moved onto the Tul Maxxtech. I was 50 rounds in, and happy. The rounds felt like they had more propellant than either the Federal or CCI Blazer. To me they felt like shooting 124gr ammo. Then I started to get a hangups: failure to feed, failure to eject. I expected some issues during break in. I wasn't ready to chalk it up to ammo issues.
2nd magazine firing Tul Maxxtech, I get a failure to extract. I can see the casing stuck in the chamber. The slide can't move home. I hand cycled the slide. The extractor wasn't holding onto the rim of the case. I didn't have my full kit with me. The one time I decide to pack lightly just has to be the time I need the extra tools I normally bring with me. Go figure. I get home. Field strip the pistol, check to make sure the round is not live, and push a cleaning rod down the bore. I had to rap the cleaning rod with the palm of my hand. I wasn't smacking hard. I'd say the amount of pressure used to clap loudly. This is what came out.
I've never seen a 9mm case like this. I'm not an expert reloader, but it looks as if the case is intentionally designed to reduce case volume. Less case volume, less propellant, more pressure? I pulled a couple rounds, and the case construction is the same. I have yet to weigh a round, pull the projectile, weigh the case and projectile to determine powder charge.