Discussion Starter
·
#1
·
Just like the thread says, what is your ugly gun that you can't part with?
Mine is a 1950's Mossberg 146B, somewhere around 1954-1957 from what I can find, I paid $80 for it used, and it was missing the inlays in the stock, so I made some from plastic and plywood (still looks like crap), and refinished the stock with linseed oil.
The stock is nice I believe Walnut, monte carlo style, the trigger guard was hand cast and hammered somewhere along the line because the originals were plastic.
I had to replace the firing pin after I bought it since mine was mashed from dry firing, and I had to seriously clean the feed ramp which was sticky, and had trouble feeding ammo.
I have shot bottle caps off 20 oz soda bottles at 100 yds with this, only with the 3-9X centerpoint scope I have on it. For $40 those scopes are plenty good for me. These originally came with amazing peep sights, but mine were long gone (worth more than the gun to replace), so I just threw the scope on the 3/8" rail that is on the receiver.
This thing is awesome because I can shoot calibri, short, CB long, Long, and long rifle as well as Hyper velocity 22lr. Never has issues extracting or misfeeding since I cleaned it. I haven't shot it in a while, need to do another video on it soon. Haven't really featured it on my channel i don't think.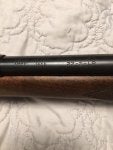 so lets see yours! And the story about why you can't part with them