Discussion Starter
·
#1
·
I love
slow
moving BIG bullets and for the smackdown they deliver. The ol 45-70 that I carry is BIG bear medicine and that is why I love it so well.
Here is a picture of another hunter that took this Coastal Brown up in Alaska using a 45-70's
Here is another one, that was taken at 20 yards
Here is the story of this picture below about using Garrett Ammunition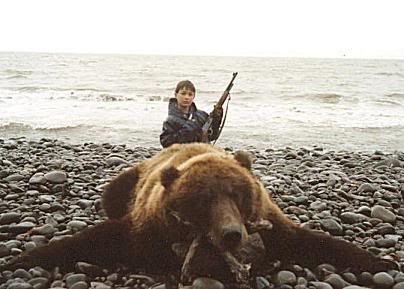 "Mr. Garrett, I am a Master Guide in Alaska and a Licensed Professional Hunter in Africa. I have made a full time living as guide since 1975 and have over the years tested the bullets from every major bullet maker and from most of the custom bullet makers. I chose to use your 45-70 ammo because it is by far the best. I do not believe that any better load exists to go into thick brush after a wounded Grizzly.
When my 8 year old son (Jason) decided that he wanted to hunt Grizzly with me on the Alaska Peninsula I was pleased as he had decided this on his own with no prompting from me. (I do not believe in pushing kids into doing what the parents do) This became a goal that the two of us shared together as a father and son team. Over 9 months we prepared for his hunt. Lots of target practice for him with a 22. We spent last winter cross country skiing and practicing shooting from a variety of real life field conditions.

I had unlimited choices of rifles and calibers that my son could use. I have custom rifles in medium and big bore up to 470 Nitro. We also have friends with custom rifles made for kids that wanted to loan some very fine rifles to Jason. We decided on Jason using a factory rifle, the Marlin Guide Rifle in 45-70. The only modifications that were made was installation of peep sights, 2" cut off the stock and a decelerator pad installed. Dry fire practice and getting into kneeling and prone positions was the first thing Jason worked on with the 45-70. After he was proficient at that I let him fire a few factory 405 gr. loads from a kneeling position. I needed to see if he could handled the recoil. Jason did okay but it was too much for him to practice with. After that I only let him used the rifle with a 45 ACP adapter made by MCA Sports. This adapter let him shoot 45 pistol ammo and practice a lot so he did not develop a flinch. We never used a bullseye target for his practice. We used a paper archery target of a life sized grizzly standing broad side. No aiming point to see so he had to learn to target on the shoulder himself.

The end result is that 9 year old Jason shot a beautiful 8' 7" Grizzly with your 45-70 ammo. From 45 yards the 540 gr. bullet struck the bear broadside in the left shoulder. Breaking the shoulder, going through the rib cage on both sides and breaking the right shoulder, then exiting the bear. This was a devastating blow to a tough animal. The bear made one jump when hit then collapsed dead 18 feet from where he was standing.
Thank you for making the excellent ammo that helped make my son's hunt a success. "
Jerry Jacques
Here is another fine smack down using the 45-70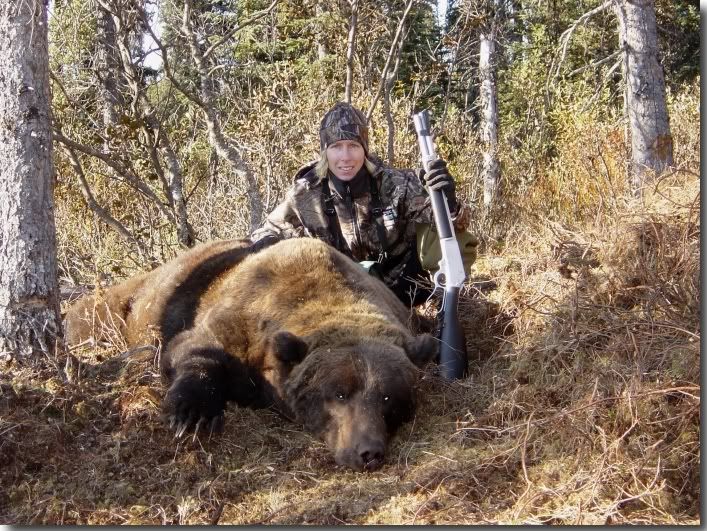 Now mind you, all of these bears were dispatched with BIG HEAVY bullets from Randy Garrett Ammunition, but it gets my point delivered about the smackdown.
And here is an Elk that was taken down where knowing your rifle and bullet shine and this was shot with a muzzle velocity of 1650 fps @ 275 yards.
I will try and get up to the upper pasture where I hit a steel plate that has been hit with 30-30 and other 30 cal bullets that penetrated the steel because of the magnum loads, and you will see that they penetrated the steel because of bullet design. The last time I was up there, I shot it, and hit center causing the steel to curl from the impact @ 20 yards from a 405-gr JSP loaded at 1550 fps.